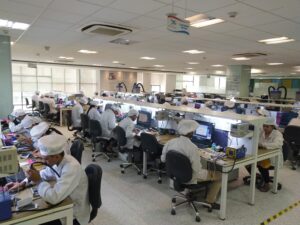 Repairs and Refurbishment have become important customer service and sustain abilities pillars for many brands. It allows companies to maintain product and prolong their life cycles, with configurable and scalable operations we provide high quality technical repairs and refurbishment services tailored to meet timelines with cost effective way of working
Our Repairs responsibility extends the entire product cycle – initial product purchase, its usable life and ultimately the recovery and recycling of materials.
We provide a comprehensive suite of returns, Pan India service and repair options to maintain product performance and satisfy customer expectations. Our service center leverage process and technical expertise to design the optimal service solutions for service, sustainability and cost.
LRP factory is equipped with latest Equipment for L4 Repairs and world class Infra set up. Highly skilled Team of engineers with repair capacity of 30,000 Phones per month in a single shift.
ELS Process strictly adhered, Team capable of doing L4 Repairs / Assembly of Mobile accessories i.e. smart watches etc